Links to online versions of print and TV interviews as well as publications will be shown here. This is an example of SOME of the fun things Raina has gotten to do! For an up to date look at future events and projects Raina will have (not including birthday parties) please click here
OLDEST AT THE TOP LATEST AT THE BOTTOM
March 2011
Raina was happy to have the opportunity to speak to her fellow classmates in the BEd program at MSVU about her experiences as a mermaid and her educational goals.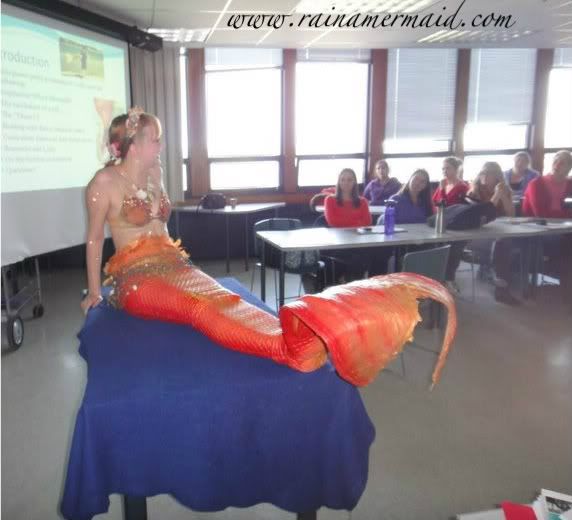 You can see the rest of the photos by clicking here
April 2011
Raina was interviewed by author Carolyn Turgeon known for such books as Mermaid , Rain Village, and Godmother the interview can be found by clicking here
Raina's image was shown at the 29-31 second mark during a news broadcast in New Zealand about a faulty spfx maker which can be viewed by clicking here
As seen in the image below Raina took part in the MSVU Children's Carnival you can see the rest of the photos by clicking here
Raina took part as a model for Dr. Sketchy Halifax- a group that brings artists together in a non traditional setting to draw a non traditional model. Raina believes very strongly in the importance of the arts both for children and adults and had a wonderful time modeling for the talented artists.
Raina participated in several birthday parties, photoshoots, and private appearances.
Raina once again spoke to two first year Education classes about education outside the box!
Raina's work with Mark Anthony Ramsay Photography was on display at the MSVU Art gallery in November
Raina also participated in the official opening of the show and met fans, peers, and kids!
Raina was on the front page of the Chronicle Herald Website with her work by Peter Parsons
Raina's work with Mark Anthony Ramsay photography was published in Mermaids and Mythology Winter 2011 Edition
Raina donated her services for an auction fundraiser to raise money for local Child Care Centre Point Pleasant Childcare. Here she is posing with the winning bidder who will receive a full mermaid birthday package in March
Raina worked hard to create many mermaid inspired educational resources like this one
Raina was featured as a contributing author on the debut issue of Mermaids
Raina did a birthday party for the auction winner from the earlier mentioned fundraiser.
Raina won Mermaid of The Month with Mermaid Minerals, winning free natural/Organic makeup and was features on their site
Raina went on a Mermaid tour of Florida! She met many other mers and had many photoshoots
Raina finished the BEd program with a place on the Deans list at MSVU. She also finished teaching grade 5. Her students got to find out her secret!
Raina once again posed for the Halifax Dr Sketchy group, along with Mermaid Mimi
Raina volunteered and participated once again in World Oceans Day 2012 at the Maritime Museum of the Atlantic
Raina did MANY birthday parties!
Raina got a feature on art website DeviantART.com
Raina met the Premiers of Canada, and got a photo published with the Premier of PEI
Premier Bob MacLeod of the Northwest Territories sharing a laugh
Raina participated in the Tall Ships Halifax Parade, and then again in the Lunenburg Tall Ships Festival
Raina was featured on the Casino Nova Scotia Pride Parade float "The Waves of Summer"

Raina performed and participated in the annual Mahone Bay Pirate Festival
Raina was awarded a signed CD from Joel Plaskett for participating in a music video contest. Her video was featured on his website.
Raina launched "Raina Creations" and they will soon be for sale. It features recycled and upcycled jewelery and accessories.
Raina introduced a new mermaid to her troupe- Mermaid Ama! Ama is in training and will hopefully be joining on more professional roles in the future.

Raina got to meet and enjoy some music with Canadian singer Matt Mays!
September started off with a bang including a photoshoot in Prince Edward Island
Raina spoke to new pre-service teachers at Mount Saint Vincent University on a panel.
Introducing.. the Ocean's Entourage! Made up of Fanplastic Girl, Raina, and Sola. We have joined forces to fight the evil plastic pollution! Drawn by David Ayala
Raina participated in a Mermaid Meet Up During Hal-con
Raina published images from a September photoshoot with Brian Larter
Raina supports Movember!
Raina announced that she will be publishing a book on the topic of beng a mermaid in 2013! Here she is working away on it


Mermaid Ama officially joined Raina's team as a mermaid for hire!
David Ayala drew a Christmas Card featuring Raina Mermaid, Fanplastic Girl Gear, and Gac Filters!
Raina and Mermaid Ama did several birthday parties and put together a neat youtube video showing what a party can be like when you rent or purchase mermaid tails for children. We'll be offering mermaid tails for kids in 2013.
Raina put together a 2012 mermaid video year in review to reflect upon the last year!
Raina also put together a 20 minute video of mermaid swimming and performing. (Different video from above but same thumbnail)
Mermaid Raina and Mermaid Ama continue to do Mermaid Birthday Parties at indoor pools all month long.


Raina announced she will be publishing a book this spring!
Raina met up with mermaid Ama and Mermaid Mimi to host a private swim for supporters!
Raina and Ama did LOADS of mermaid parties!
Raina got to hang out back stage and meet the cast too. She even ran into the president of her university!


Raina and Ama were super busy doing many birthday parties during March. Check out this video tutorial they made on mermaid makeup!
Raina announced more details about her book! Check out the pending table of contents...
Our awesome t-shirts arrived just in time to get down to mer-business!
We also got our giant posted in the mail, woowhoo!
In conclusion: lots and I mean, LOTS of parties...
Mermaid Ama celebrated her 16th Birthday!
Raina did a special 40th Birthday- did you know you can book mermaids for adult parties too?
Mermaid Naida made her first mer-appearance!
Parties, Parties... and MORE Parties! Hehe
Did you know Raina does mermaid makeovers? Check it out...
Raina, Ama, and Mer-wrangler Sean got into the Studio to take promo photos for her book, and the cover images for her book. Check out some of the results!
Raina and Mermaid Mimi made an appearance at the Children's Wish Foundation: Princess Tea, and also did an outdoor photo shoot together
Raina's tail was sent to Florida to be touched up and taken in. Check out the awesome result!
Once again, mermaids were very busy with private bookings all month long. You can see lots of photos on our FB page